I-Corps Teams at USF
Meet the Teams from USF Who Made the National NSF I‑Corps Program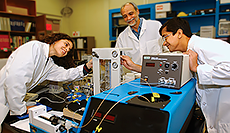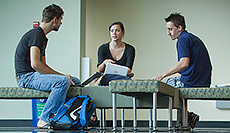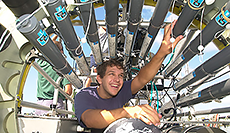 A full team consists of an Entrepreneurial Team Lead (student or post-doc), Academic Team Lead (Faculty) and Business Mentor.
The Entrepreneurial Lead could be a Post-Doctoral scholar, graduate student, undergraduate or other student, or professional staff, with relevant knowledge of the technology and a deep commitment to investigate the commercial landscape surrounding the innovation.
The Academic Lead will be responsible for overall project management. The AL must have an academic appointment that would normally qualify the AL to submit proposals or play the role of a PI in subsequent proposal submissions.
The Mentor will typically be an experienced or emerging entrepreneur with proximity to the institution and experience in transitioning technology out of academic labs. The Mentor will be responsible for guiding the team forward and tracking progress.
Read the NSF FAQs for I-Corps Teams.
---
Meet the NSF National I-Corps Teams from USF
Twenty-seven USF I-Corps teams have been selected for the prestigious NSF national-level I-Corps program to date. USF leads the state of Florida as the university with the most national I-Corps teams. Teams selected for the national program receive $50,000 and intensive training to take their idea/product to the next level. Congratulations to this year's national teams. Click on the links below to read more about their projects. For previous years' national teams, open the PDFs below.
I-Corps: An Individualized 3D Printed Silicone Bottle Nipple
Academic Leads: Dr. Rasim Guldiken (PI) College of Engineering
Awarded: July 1, 2018
This I-Corps project aims to evaluate the commercialization potential of a baby bottle nipple concept which replicates a mother's nipple in terms of shape and texture while matching the flow rate to that of the maternal flow rate.
I-Corps: Use of eHealth to Personalize Exergame Prescriptions
Academic Leads: Dr. Hsiao-Lan Wang (PI) College of Nursing & Dr. Srinivas Katkoori (Co-PI) College of Engineering
Awarded: April 1, 2018
This I-Corps project has the potential to create a new service technology to improve physical activity engagement by developing personalized physical activity prescriptions with market-available exergames and fitness mobile applications.
I-Corps: Scalable Conversion of Carbon Dioxide to Value-Added Commodity Chemicals
Academic Leads: Dr. John Kuhn, College of Engineering
Awarded: October 1, 2017
This I-Corps project has the potential to capture waste CO2 from fossil-fuel-fired power plants and repurpose it toward generation of hydrocarbon fuels and other high value hydrocarbons.
I-Corps: Improved Approach to Polymer Sintering
Academic Leads: Dr. Nathan Crane, College of Engineering
Awarded: July 1, 2017
This I-Corps project has the potential to expand the application space for 3D printing by removing current limitations on materials, achievable properties, and processing speeds, through a modified process for 3D printing with polymers from a powder feedstock.
I-Corps: Graphics Processing Unit-Based Data Management System Software
Academic Leads: Dr. Yicheng Tu (PI), College of Engineering & Dr. Kaushik Dutta (Co-PI), Muma College of Business
Awarded: March 1, 2017
This I-Corps project explores the commercial potential of a data management system with a novel software architecture and advanced data analytics functionalities built on massively parallel hardware such as Graphics Processing Units (GPUs).
I-Corps: Algal-bacterial Wastewater Treatment Technology
Academic Lead: Dr. Sarina Ergas (PI), College of Engineering
Awarded: March 1, 2017
This I-Corps project focuses on customer discovery to investigate how the innovative algal-bacterial shortcut nitrogen removal technology can be potentially integrated into existing wastewater treatment processes.
Previous USF I-Corps Teams Who Made the National NSF I-Corps Program:
---
Meet the USF I-Corps Teams
Each semester, the USF I-Corps program holds an intensive 6-week introductory "boot camp" for teams from all across the USF System. Each team receives a modest grant of up to $3,000, and training and mentoring to explore the potential commercial development potential for their ideas. Each team includes a USF faculty member, USF student, and a business entrepreneur from the community. Team members who complete the rigorous course earn the designation "USF I-Corps Fellows." Please open the PDFs below for a complete list of USF I-Corps Fellows.